In the ever-growing independent country scene, you don't have to look very far when it comes to budding talent. From Tyler Childers to Turnpike Troubadours to Flatland Cavalry, independent country is arguably at its best and most interesting it has ever been. One of today's newest and most promising artists is none other than Tucker Knisell.
Tucker Knisell is a 23-year-old singer/songwriter from Preston County, West Virginia. Growing up in a family full of musicians, he was surrounded by music from a young age. "My mom frequented Nashville in the nineties. [She] was a singer and stuff. My dad was a really good guitar player. He played [in] my band a while, and I had a bunch of cousins and stuff that were Nashville guys," Knisell said.
The constant exposure to music prompted Knisell to pick up a guitar at an early age, beginning around 11 or 12 years old. Music, in general, was simply a natural part of life for him "I was around a lot of music growing up. It's like learning a language; I think I kind of picked it up organically," Knisell noted. It was at 15 or 16 when he began writing songs.
Music, however, was not the career plan Knisell thought he would pursue. Much like fellow singer/songwriter, Zach Bryan, he enlisted in the Marine Corps at 18, serving four years.
After serving in the Marines and experiencing the success of his first single, Wrist Tattoo last year, Knisell figured that he should pursue a music career more extensively, "I was like, you know what the hell? Let's keep the court and stuff and see what goes down, and it's been alright since then."
As for Wrist Tattoo, it had been a song that was years in the making, "I had the title of Wrist Tattoo written down for years," Knisell notes. "I had that for probably six or seven years, since high school. The chorus came to me first, and then the verses just seemed to flow out. The verses were more inspired by specific people."
The emotional track is not about someone in particular; instead, it is a bit of an amalgamation of past relationships. "I did go through a breakup when I moved back here [Preston County]. So the song was kind of an in between a relationship song. It was really weird. It was almost about a fake person really."
The track has been a resounding success for the 23-year-old. In fact, Zach Bryan himself posted the song onto his Instagram story with the caption, "listen to this."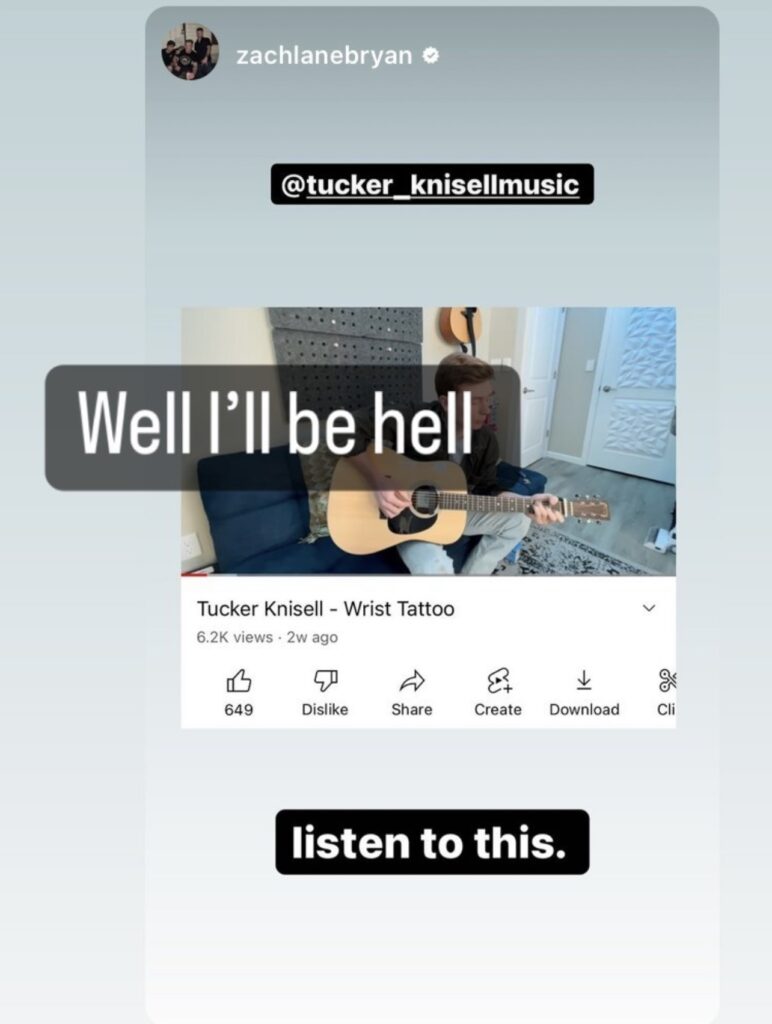 When asked how it felt to be posted by an artist as big as Bryan, Knisell said, "To be honest, I was kind of hammered. It was a game day I think, and game days in Morgantown means you're hammered by 11 o'clock [in the morning]. I walked home from the game, and somebody else told me. Somebody was like, 'Hey man, you see the Zach Bryan story?' And I was like 'no.' Then I went and looked, and I was like 'What the hell?' I don't even know how he found it, but I DM'd him and was like 'Thank you. I really appreciate the support.' "
He was admittedly a bit shocked when it all sank in, "Immediately, I was like 'Damn, now everybody's gonna listen to me.' And I did get a huge boost in followers and streams and stuff."
He also noted how the song has drawn comparison to Diamonds & Gasoline by the Turnpike Troubadours, "I did notice, melodically, it's very similar to Diamonds & Gasoline. Somebody pointed that out to me, and I was like, 'damn.' That's probably my favorite band. Obviously, there's some influence and stuff, but that definitely had a big effect on it [the song]."
Knisell described his writing process on Wrist Tattoo and all songs for that matter as sporadic. "I work spontaneously, so I just have titles in my notes. When I'm trying to write, I'll just read them. If an idea hits me, it normally comes out really quickly. I don't normally sit, and if I sit and think on something for a long time, it doesn't normally work."
As for musical influences, Knisell points to country artists such as Merle Haggard, Alan Jackson and Sturgill Simpson as well as legendary blues musicians such as Eric Clapton, B.B. King and Stevie Ray Vaughn.
Tyler Childers is another one of Knisell's biggest inspirations, even being compared to him quite often. When asked about who he is compared to, Knisell said, "The obvious is always Tyler Childers because I have red hair, and we sing bluegrass-influenced country."
He notes how he's also gotten comparisons to legendary rock and blues musicians due to his guitar playing, "Someone said 'country Van Morrison' one time. People will be like, 'Oh, you play like Dickey Betts or Clapton.' "
Currently, Knisell is gearing up to release new music soon but is unsure of a release date. He cites his perfectionism as one of the main reasons for the current unknown timetable, "It took me years just to even record one song because I think I get cold feet. So I don't want to put out the product until I am absolutely convinced by it myself."
Additionally, he plans on playing shows outside of his home state of West Virginia and growing a broader audience, "The plan is to branch out more because I think at this point, [I] got a decent online platform. And literally, 90% of that audience is out of the state of West Virginia."
He later revealed that he has many songs already recorded and there should be an announcement for a debut album or EP later in the year.
You can stream Knisell's songs on Spotify here: