Morgan Wallen fans aren't happy.
Last night, the 57th annual CMA Awards took place in Nashville, and while Morgan Wallen hit the stage twice to perform "Man Made A Bar," featuring a surprise appearance from Eric Church, and then again with back-to-back Joe Diffie covers alongside Post Malone & HARDY, he walked away with a big fat goose egg when the night was said and done.
Morgan was nominated in three categories this year, including for Entertainer of the Year, Album of the Year and Male Vocalist of the Year, but it was Lainey Wilson who took home the biggest award of the night.
While leading the pack with a whopping 9 nominations and winning five, Lainey beat out Morgan, Chris Stapleton, Carrie Underwood and Luke Combs for Entertainer.
While I'm personally a huge Lainey fan and extremely happy for her success, some fans are wondering if it should've been her turn this year. To put it into perspective; not only did Morgan Wallen dominate the charts and put on one of the biggest tours this year, but Carrie Underwood still hasn't won Entertainer, despite being nominated 6 times in previous years.
Regardless, there's no denying that Lainey has had a MONSTROUS year and it's incredibly satisfying to see someone of her caliber continuously being recognized. She also won Best Album, Female Vocalist, and two awards for her collaboration with HARDY on "wait in the truck."
After the award show, Morgan took to his Instagram story with a simple statement to let the fans know he's doing just fine:
"Walked in tonight a winner, didn't leave no different."

Via Instagram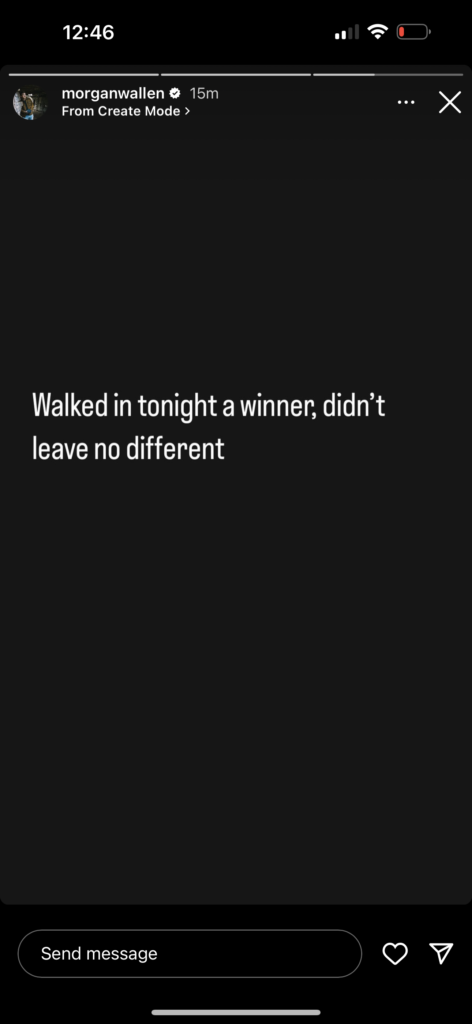 Not sure how you could disagree with that. Morgan has had arguably one of the biggest albums in all of music this year, broken record after record, and "Last Night" now holds the title for longest running #1 solo song in Billboard's Hot 100 chart history. Trust me, he's doing just fine.
Check out Morgan's performance with Eric Church here: